What is The Mac Groups About?
Company culture isn't really something that you can plan. Business owners, supervisors and even employees do, from time to time, attempt to map out cultures, but those plans end up just reflecting the values and personalities of the planners. So, the culture ends up depending on those involved, no matter what.
At TMG, as corny as it may sound, our culture centers on people. Us. Our clients. And our community.
But first, let's talk about what we avoid centering our culture around…
Our Culture is NOT – Work, Work, Work
Don't get me wrong… we do work, and we do an awesome job at it.
However, a lot of company cultures end up being about the work, which makes sense – since you go to work to get work done. But, with that sort of focus, do employees get the chance to really pour themselves into their projects? Maybe their work gets done, but does it reflect excellence or nuance? Does the environment foster new ideas?
I don't just mean in creative industries, by the way. Creativity and the room to think can help engineers, chefs and lawyers. That's why an office that discourages random conversations or even goofing around in favor of constant focus on the computer screen can find their development stifled. These places say, leave the R&D to the R&D team, and you keep looking at your computer, entering data or whatever it is that you do.
That being said… what's another focus that a ton of companies have?
Our Culture is NOT – Client, Client, Client
Again – don't get me wrong. We love our clients and we do awesome stuff job for them.
But… the company that puts the client above all others (as many do) leaves employees feeling like they're supervisors and/or owners have, you know… kinda lost that lovin' feeling…
…and no one wants that to happen.
Joking aside. What happens in that environment when the employee did his/her job and did it right – even exceedingly well, yet the client remains unsatisfied. Well, I think that you know the answer. The phrase, "The customer is always right," might sound like a decent motto for your company, until you come to the point where your employees all know how little they matter in comparison to maintaining a client and the accompanying check, money order, credit transaction, etc.
If that's the case… what does The Mac Groups culture center around?
Our Culture is MOST DEFINITELY – People, People, People
It might sound strange, but yeah… we do focus on people here. We focus on the people in our office, the people who we market for and the people in our community.
We have a seriously good time around this office… and we get a serious amount of work done. At times, we are throwing stuff at each other, and five minutes later we'll be rolling out some really cool web design for a client. It's a relaxed environment, but when it comes down to getting stuff done, we do it and we do it with excellence.
Because our culture focuses on people, that makes it easy to care about our clients. We have fun with them and they get a good service. All of our clients know that they can come in any time, and when they do, they are greeted with Leo at the conference table, the beer fridge in the main office room and usually some funny drawing… usually of Josh mixed with some sort of animal. Or this sort of thing…
Lastly, our people-based culture let's us show our support for Buffalo, Williamsville and the people around us. Though we don't mean to brag, we get involved with charity, encourage clients to do the same and come up with creative solutions for raising awareness and funds for good causes.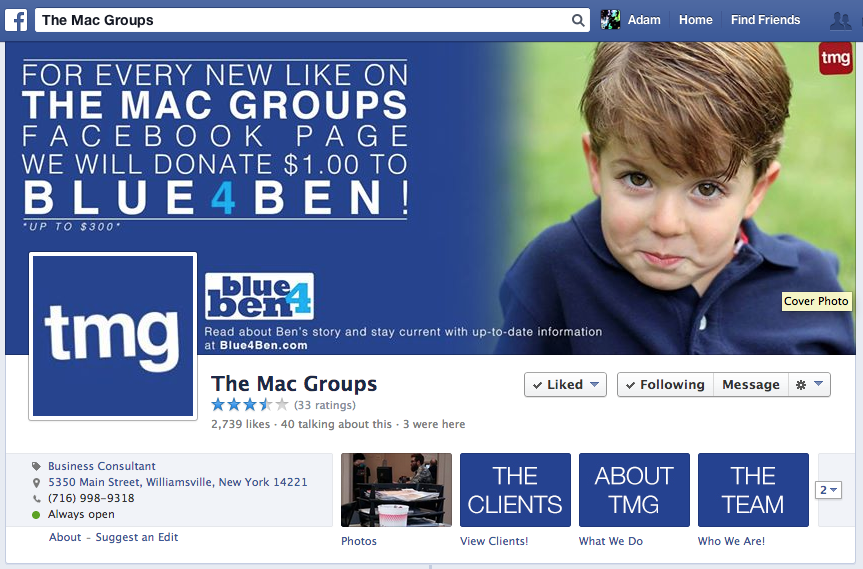 If all of that sounds cool to you… then make sure to check out our PPC Manager position, posted on our Employment page.