Humanize your brand with Photos in Social Media
One thing that a lot of businesses struggle with in social media marketing is the aspect of humanization. People tend to overlook the affect that a group photo has on a Facebook or Twitter user.
Include a either a candid or planned photo on Facebook or Twitter as often as possible for these reasons:
Social Media Users like People
Why would anyone be on a social media site if he or she didn't like people? Well, maybe that's a more serious question than I'm assuming it is.
In any case… people do tend to like seeing people. The reason Facebook originally beat out its competitors had a lot to do with the human element. The news feed makes it easy to see what's going on in people's lives, and that tends to be the stuff that users get involved with by commenting, sharing, etc.
So, make your business feel like a friend as opposed to a… business by posting some group photos, highlighting an employee or taking a funny candid shot.
It's VERY EASY Original Content
Come on guys… this isn't 1950. It isn't 1990. Heck, it's not 2005. Most of us have phones capable of both taking photos and sending them to social networks (or the people who handle your social networks). So, it's pretty easy to snap a photo every once in a while.
Since that's the case, you have a very simple way of producing original content. Reposting popular memes, photos, etc. is all well and good, but if it didn't originate on your page, the effect can get lost in Facebook's algorithms, or in the fact that many people have seen it elsewhere. A group photo from your business, however, is always unique, so people will not have seen it anywhere prior to your posting it.
It Has a Proven Success Record
Besides the previous points… this simple tactic has proven success. Take, for example, this funeral home TMG client: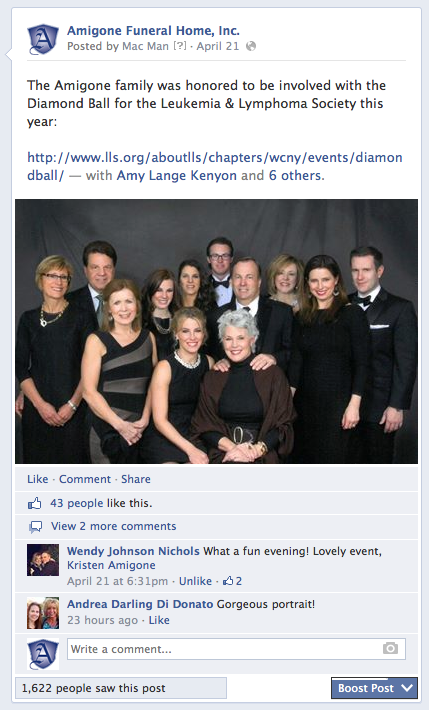 Let's break down the stats:
43 likes
4 Comments
1622 people saw it
Keep in mind that these stats don't account for shares, etc. from accounts with higher privacy settings. Let's also consider that, as great of a funeral home as Amigone is, they are still a funeral home. So, 43 people liked a funeral home's photo. This isn't a fashion business. Amigone doesn't make tech gadgets or musical instruments. They plan and perform funerals. By posting a photo, they reached 1622 Facebook users, got some page engagement and, based on the comments, made some people happy.
Tags: Social Media Marketing