Google Sitelinks – Good or Bad?
If you don't know what Google sitelinks are, here's how they look in Google if you search "The Mac Groups":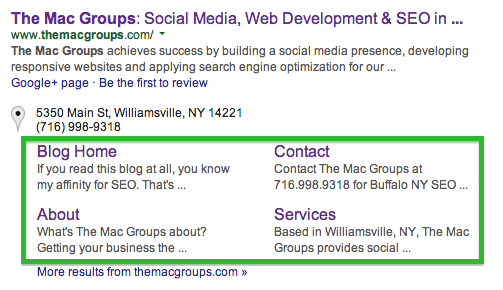 The idea for sitelinks is to make it for search users to get to the information that they want to see. They can "navigate" a website before going to the website. (I should point out that the current Home Page title tag for our site is showing up differently in Google than it actually is in our site's source code – probably due to an indexing request from this morning).
So, what's the issue here? It seems like a helpful feature for users, and it allows them to easily get to a desired page when they search for a particular brand or company.
Well, I can think of a few harmful implications, based on some things that I've seen in the past few months:
Who's Writing the Title Tag – Us or Google?
If you search "The Mac Groups Services" or "Contact The Mac Groups" (both conceivable queries for individuals who may have heard about TMG from a friend or colleague) this is what you will find in Google:
However, the actual meta titles for these pages are the following (respectively):
Social Media, Web Development & SEO Services in Buffalo
Contact for Buffalo SEO & Social Media Services | The Mac Groups
Now, if you copy and paste either of these phrases into a Google search, they will appear in the results page, for example:

So, this raises the question – which title tag will show for other organic search queries? The title tag offers an opportunity to succinctly describe the contents of a page, offer a call to action and target certain phrases. For the latter, clearly in spite of Google's title tag replacement, they do index your original title tag, so it seems that you won't have an issue targeting specific terms. But, what about your ability to offer a custom call to action? What about your terse description of the page's contents? Is it worth it to sacrifice these customizations?
Ordering from the wrong Menu?
This issue might be more important than the latter, because some site layouts can be confusing to robots. For example:
In an attempt to protect this client's identity, I've censored mentions of their company name and most mentions of their industry.
That being said, this page has 3 distinct possibilities for menus that Google could choose from for sitelinks. As an SEO and a person familiar with this company, I'll save you from guessing and say that, ideally, Menu 1 would be the correct choice for sitelinks.
What did Google choose?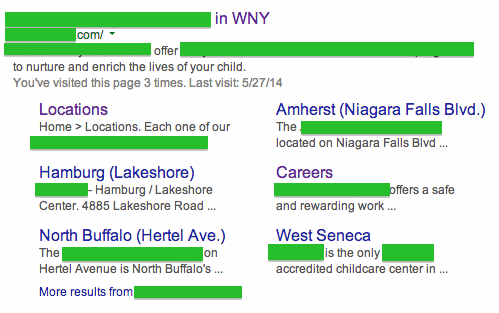 As you can see, the links come from Menu 3. Granted, this home page could be laid out better for SEO and user experience purposes, but since TMG did not design this website, we are kinda working with what we have.
Keep in mind that you can demote sitelinks with Webmaster Tools (which I now have to do for this client). But, that still allows Google to choose the links that they think most accurately represent the desired navigation for your website, with which they will replace the demoted links. And they'll probably still be wrong, and you'll have to continue demoting links until Google finally guesses correctly. In this case, at least one of the links is alright (Locations) but the rest don't really work.
Confusing Site Index
This point mostly has to do with the process of SEO, and certain things that I do specifically as an optimizer. For those who don't know, a site index shows you every page that Google has indexed of a specific domain. It also used to be an easy trick for making sure that Google had an up-to-date meta title tag for any given page, and it currently looks like this: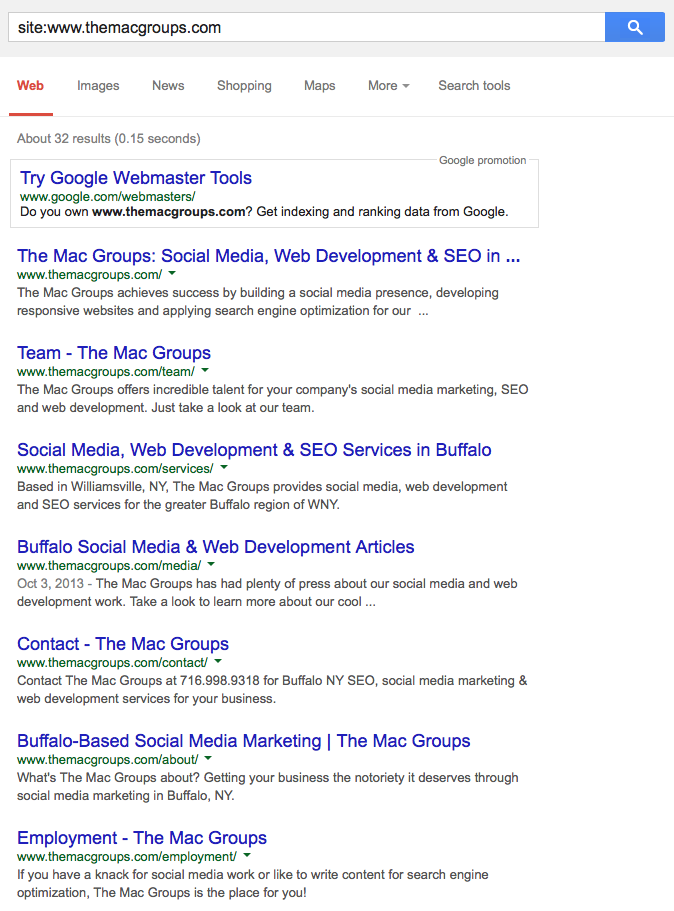 As you can see, some of these show up as title tags that I wrote, some appear as Google sitelink designations.
Now, Google replaces the title tag with the sitelink designation in a site index. So, it's a bit less obvious what's indexed and what's not. Instead of looking to the title tag, you have to look to the description. Or, you can do a Google search for your title tag and see if the page has indexed. Either way, it can be a bit annoying, especially considering how easy it used to be.