The Google Algorithm Labyrinth: How Does Google Rank Websites?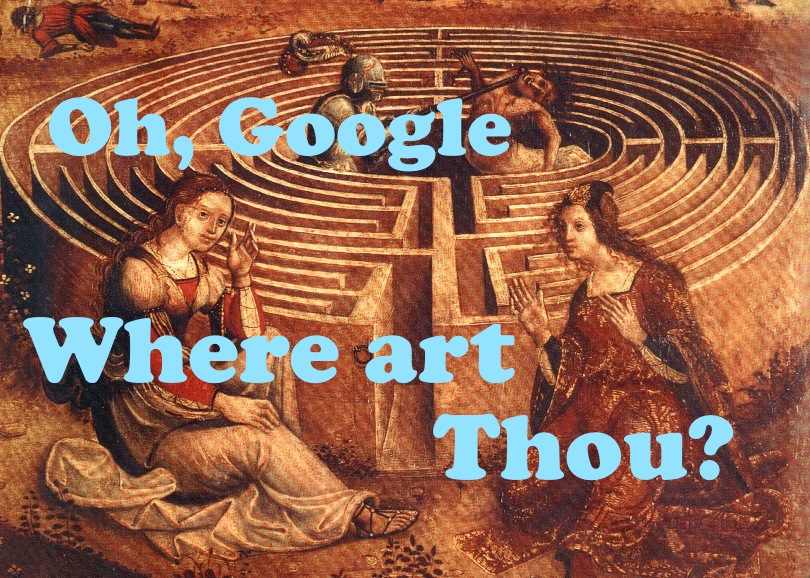 It's a question as old as Google – how does Google decide to put one website number 1 and another on the third page?
Or maybe your asking, "Why is my website on page 5 and my competitor on page 1?"
If that's the case, you've either read or heard a lot of different answers, and you could easily get confused. Some sources have way too much info, and other sources have so much that you can't really absorb it all. Sadly, Google has only publicized limited information about their several hundred search algorithm ranking factors. Luckily, however, they have publicized some factors, while many who work in SEO research have dug up many of the "secret" ranking factors.
To make things simple, you can divide the ranking factors into 3 categories as you begin to consider search engine optimization:
(this is by no means exhaustive, but this offers a decent overview of many factors which affect your website's health in Google rankings)
What my site has going for it
Ask yourself these questions:
How old is my domain?
While this factor is sort of out of your hands, the older your domain, the more trust it might have in Google's eyes.
Is an important keyword in my domain?
Though exact-match domain names don't hold the weight that they once did in Google, exact match domains or the appearance of a keyword in your domain can help with optimization. However, branding may be more important for your domain than including a keyword for a search engine.
How long have I registered my domain for?
If a domain is only registered to expire in a year, that can signal a spammy site to Google. It's typically better to register for a long time to signal to Google that your site is in it for the long-run.
Am I being a little too private?
While you might not know this information, your host probably will. If you or your host doesn't publicize your domain ownership, Google might ask why you want this info hidden. Have you done some spammy or otherwise malicious stuff in the past? That would be a good reason to stay private. Google, therefore, tends to assume the worst about private WHOIS settings.
Do I have well-established branding throughout the web?
Do your color schemes, fonts and logos match on your website, LinkedIn, Twitter, Google Places and everywhere else? These are great signals toward brand strength and, therefore, site strength.
What an SEO can do for me
Meta Data Optimization
This involves optimizing title and description tags to include a strategic quantities and dispersement of keywords, usually as "long tail" keywords, which mimic typical or targeted search queries.
Relevant Queries used throughout site
Does your site actually use the words that you hope to rank for? If your company wants to rank for "fine dining in Williamsville," you should probably use that phrase on your home page, right?
Thick Juicy Content / Contact Page
If you have a lot of pages with thin content, you won't find too much favor with Google. However, you can beef up the content, so to speak, adding more explanation and description throughout the site.
Also, consider a Contact Page, if you don't have one. A contact form, address, phone number and any other contact info signals to Google that your business is real, physical and friendly.
Fast Website / Little to No Down Time
Does your site load quickly? Do you rarely, if ever experience down time? These indicate a good user experience to Google.
Identify and expunge duplicate content
Sometimes, especially with e-commerce site, you could have incredible amounts of duplicate content and not even know about it. Seeing as duplicate content is a big "no no" as far as Google goes, so you'll want an SEO to identify, remove and repair duplicate content.
Image Optimization & Multimedia
If you have images or videos on your site, are they optimized? Do you include enough multimedia to offer enough audio/visual value to your site?
Keeping Things Fresh
Do you regularly update content with news, stories or advice? How recent was your last update? Google likes to see living websites with good information for users
Internal Links & Other Link Things
A lot of factors regarding links can give Google signals about your site's relevance for certain keywords. Your internal linking matters in regards to anchor text and the page to which the most links point. Furthermore, the quantity of outbound links could either help or hurt your site, so you want to be careful with outbound linking. Too little could indicate that you don't have a relationship with the rest of the web, too much could indicate spammy tactics.
Solid Writing / Grammar
Surprisingly enough, Google both recognizes bad grammar and penalizes for it. Bad writing not only makes for a poor user experience, but it could indicate a spam site.
URL Optimization
URLs need to be concise and include terms that clue in to the page's content.
Sitemaps & Site Architecture
Sitemaps help show Google what should be indexed. Furthermore, site architecture should be easy to navigate so that users can easily find the info that they need.
Positive UI & UX
Similarly, the user interface and user experience (signaled through various metrics) can give a huge boost in rankings.
Google Analytics & Webmaster Tools
Implementing Google's tracking codes gives the search engine a lot more data about your website, and makes it so that you or your SEO can see how to make necessary adjustments to your site, both for user experience and on-site optimization factors.
Google Places Optimization
Do you have Google place set up? Is it set up to 100% with keywords, images, address, general contact info and anything other information that might help someone? Is it linked to your website?
Other Directory Listings
Yahoo Locals, Yelp, Foursquare and more can help signal to Google that you not only want people to know about your business, but that you offer a venue for them to review your products/services.
Social Signals
Proper use of Facebook, Twitter, Instagram, Pinterest and other social media sites show Google that you engage with users, giving a boost in rankings. Initially, these signals gave a stronger boost than they do currently, but the lack of these signals can hurt your rankings, so better to have them.
Establishment of Branding
If you lack consistent branding on your site, directory listings, social media and elsewhere, this should be fixed to help Google, users and even yourself recognize where you are on the web.
What others can do for me
Good  Reviews
If you have directory listings on Google, Yahoo and elsewhere, good reviews go a long way. Of course, fake good reviews will hurt – so never buy reviews. Do a good job and offer opportunities for users to review your company.
Real Inbound Linking
I say real inbound linking, or back links, because fake or spam links will only hurt. However, links that lead to your site from well-established, high-quality, relevant websites REALLY help your website.
Assortment of Incoming Links
What kind of sites do your inbound links come from? Charities? Educational Sites? Blogs? Social media? It's good to have a well-rounded link profile in order to both garner diverse traffic and to show Google that you aren't buying or otherwise farming links.
Anchor Text
The anchor text to inbound links matter. If you have a link pointing to your site that says "dental products" and you sell dental products, Google recognizes this trend and gives a boost for the query "dental products." While it can get a bit more complex than this, that's the gist of it.
"Resource" Links
Has your website been cited as a source in Wikipedia or a blog? These sorts of links lend to your authority for a topic and really help with rankings. In fact, while Wikipedia source links are "no follow" links, Google still picks up on them, recognizing your site as an authoritative.
Old Links are Better Links
Lastly, a links that sticks around is better than a link that just popped up. People can easily remove links from their sites. So, if someone leave the same link up for years, chances are that the person REALLY thinks your site is worth a visit.