Why You should look at Google Trends at Least Once a Week
My guess is that most people haven't heard of Google Trends. You know Google is a search engine, you know that they offer email and a relatively unpopular social network. You might even know that they are developing wearable technology, own Android and have a web browser. But, chances are you figure out what's trending via Twitter or Facebook's new trending feature.
However, Google Trends might actually be more important than other versions of the concept, especially for those who do any sort of marketing on the internet. Here's why:
People Proactively Search for the Subjects

On social networks, people often share stories or go with the flow. Facebook only allows for a limited number of trends to appear while it, along with Twitter, seem to cater trends to specific users based on search history, profile info, etc. While Google factors similar data into search algorithms, Google has no control over what an individual types into their search bar. They might suggest searches in their drop down menu, but this in no way controls that information that a user types into the bar.
Therefore, with Google Trends, you can get a better idea of organically trending topics on a very large scale throughout the world. Are the searches influenced by news media and pop culture? Certainly. But, they also reflect more autonomy. Therefore, Google Trends offers a better representation of important topics to the public at large.
Google Users Don't Need Accounts to Search
When you base your content around trends on Facebook and Twitter, you've limited yourself to topics in which those with Facebook and Twitter accounts are interested. Google Search users don't need accounts. Anyone with internet can use Google. So, the trends reflect a larger demographic of people or, in the very least, have the potential to represent a larger demographic.
Therefore, if you base a tweet, status update or blog post around a current Google trend, you'll actually be more likely to pique the interest of a larger amount of users.
Google Supplies Estimates of Subject Search Quantity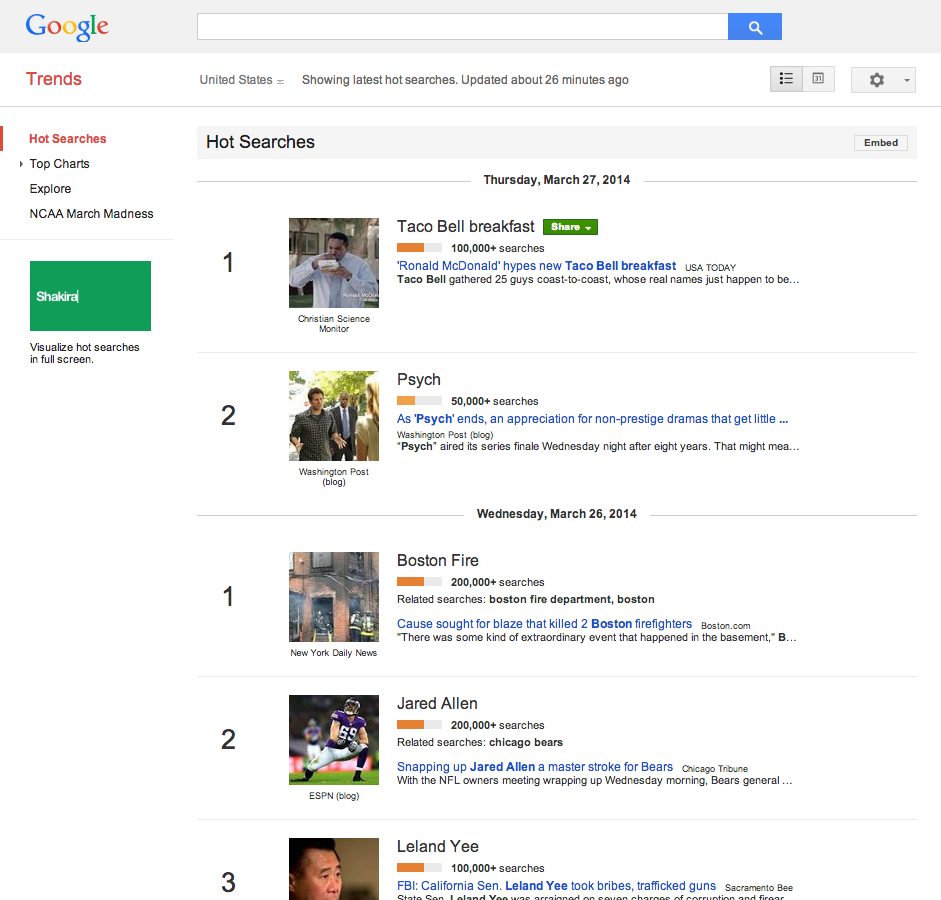 Google offers a numerical estimation of the actual number of people who have cognitively searched for their trending topics. So, if you want to center your content around a current trend, you can have an estimation of how many people will be interested in that topic. Logically, it would follow that perceivably more people are actually interested in the trend than the estimated amount that Google offers, seeing as more people are probably talking or reading about the subject than are searching for it in Google. To some extent, you can quantify your possible reach, and certainly confirm public interest.
Tags: Content Creation, Google, Web Trends